Huaxin Stainless Becomes One Of The Most Recommended Suppliers Of Steel Wire Rope Clips
Wire Rope Clips are used to clamp the loose end of a length of wire rope, once it has been looped back to form an eye.
Huaxin Stainless, a comprehensive supplier of stainless steel products has announced the launch of their new range of wire rope clips. These products have been carefully designed and manufactured to the highest quality, making them one of the best on the market.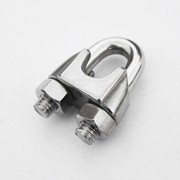 The China-based company who has gained a world-wide reputation for manufacturing and supplying quality products has become one of the most recommended suppliers of Wire Rope clips (http://www.cntzhuaxin.com/en/products.html) including the DIN741 Wire Rope Clip. Their products have gained such a reputation, companies are using them all over the world due to the high-quality materials they use and their affordability.
The DIN741 Wire Rope Clip is a prime example why Huaxin Stainless Steel has become a leader in their field. This wire clip has become one of the most used around the world due to its design and affordable price. The JIS Wire Rope Clip is another popular product that offers greater load strength than the DIN type.
There are lots of different Wire Rope clips to choose from, providing a suitable product for any industry or company in the world. With a fast national and global shipping, companies requiring high-quality and affordable Wire Rope Clips can have them delivered when they need them. All products come with a full guarantee, providing customers with a product and a name they can trust.
Huaxin Stainless is not only one of the most recommended suppliers of quality stainless steel Wire Rope Clips, they have also become a trusted name in many more products which include Clips, Thimbles, Chain, Shackles, Turnbuckles, Hooks, stainless steel Eye Bolts, Eye Nuts, Links, Investment Casting Swivels, Pad Eyes, stainless Wire Rope, Camlock Couplings, Spiders, stainless steel chain to name a few.
To learn more about the quality products that Huaxin Stainless have on offer, please visit http://www.cntzhuaxin.com
About Huaxin Stainless
Huaxin Stainless started in 1992 as a small processing plant and has grown to a comprehensive supplier of stainless steel products including marine hardware, decoration accessories, machinery parts which are offered to the marine, industrial, architectural, commercial, government and OEM markets.
Media Contact
Company Name: Huaxin Stainless Steel
Contact Person: Media Manager
Email: [email protected]
Phone: +86-523-83789258
Address:Dongbei Industrial Park Dainan, Xinghua
State: Jiangsu
Country: China
Website: http://www.cntzhuaxin.com